Finding a Leonberger
---
Is a Leonberger the "right" dog for you and your family?
Leonbergers are a large breed, meaning they grow up fast and are big!
Yes, they can become a friend, companion, and an ideal family dog, but only after a lot of socialization. This includes interacting with people on and off their property and only after formal obedience training that uses positive reinforcement. It takes consistent work and participation from all family members. No dog is born with good behavior — you must teach your Leo.
Leos are high-energy dogs with amazing intelligence.
They excel in obedience, agility, therapy dog roles, water rescue work, and many other outdoor activities. It takes lots of patience, training and work; all of which adds up to TIME!
Leos, like most dogs, need help and reassurance when they enter adolescence.
They can demonstrate shyness or fearfulness. You can help your Leo develop into a self-confident dog by giving reassurance and exposure to new things. Moving objects such as bikes, skateboards and traffic can startle and frighten dogs. It is critical that you expose your Leo to a lot of different noises, people and environments so they outgrow fear and/or shyness. Both can lead to very negative behavior.
Leos should grow slowly.
Large breeds should be allowed to grow at their own genetic pace and not be overfed to promote growth. Leos weigh upwards of 100 pounds and, like most dogs, they like to eat the wrong thing. A fat Leo is not a healthy dog! Keep track of those ribs—when you can no longer see them or feel them, your Leo needs a diet.
The average Leo can easily surf your kitchen counters.
Remember, if your Leo reaches 30 inches at the shoulder, its big head is at least 6 inches higher. Dogs have a one thousand times greater sense of smell than humans. Leos can smell any food left on your kitchen counter taking whatever it wants (including your dinner)!
As puppies, Leos can be very destructive if left to invent their own games.
Be sure to provide lots of interactive toys like Wiggly balls, hide-a-treat balls, Kongs, and frizbees. Whatever you purchase, use common sense to avoid choking hazards like toys that are too small or that break apart. Please note: golf balls are not only small but are toxic and chewed up tennis balls can be choking hazards. Toys are great, but do not replace your companionship. Leos are inherently playful and need lots of playtime throughout their lives. If you combine play breaks with training, your Leo will be much happier learning what makes you happy.
Older Leos also enjoy play periods; proving that old does not mean inactive. Exercise and play periods keep your Leo's weight under control and enhance the immune system.
Enjoy your Leo, but never forget
it's a dog. It will never speak English — you must learn to communicate in ways it can understand, so train ... TRAIN ... TRAIN!"
A Leo is extremely sensitive to your moods and your family's interactions.
Family squabbles can make a Leo very unhappy, so be sure to avoid loud angry arguments in the presence of your Leo. Leos love to go with you on errands, trips and outings. You will need a vehicle large enough to accommodate your giant Leo. Taking your Leo along is part of proper socialization which must continue throughout the dog's life.
Most Leos are sensitive to drugs.
Whenever possible, avoid the use of drugs, mainly tranquilizers, anesthetics and sulfa-based drugs. This should be discussed with your veterinarian when you bring your puppy in for a health exam.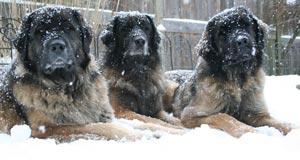 Leos enjoy being part of a "pack" of Leos!
They are attracted to each other but accept other breeds. They like cats, horses, farm animals and kids! Most Leos instinctively like children, but not all children instinctively like dogs. Never leave your Leo puppy or adult alone with strange children. Remember, an adult Leo is at eye level with a 5 or 6 year old child.
Leos do not adapt well to being left outside alone.
They must be integrated within your family. They are demanding of your time and most like to have the companionship of other animals. A Leo alone in a yard is not a happy dog and dogs that are consistently unhappy often become bored, destructive, or ill. Make sure to provide for the body, mind and spirit of your Leo.
Dogs dig. Leos are dogs. Leos dig.
Provide an out-of-the-way area for digging and you'll both be happier. Something under a bush away from the traffic areas because Leos can excavate a fairly large bunker. Leos are mud puppies throughout their lives. They love water and see nothing wrong with rolling in dirt. Lakes, rivers, and oceans make Leos very happy! They are a drip-dry breed, so as they dry they deposit dirt in your home. Leos can cover your house with a lot more fur than a small dog. Keep that in mind when deciding on a Leo. Their fur can jam your vacuum cleaner, many times over! That's life with a Leo. If you're very meticulous about your carpet and furniture, a Leo may not be your ideal dog.