About the Leonberger
---
Therapy Leonbergers*
I had been involved with the LCA for nearly 18 months before I actually got a dog. I was attending shows and meeting people in the club, and always thinking of different activities which I could get involved in once I was able to get my first Leo. At the 2001 National Specialty in Delavan, I made a very good choice when I decided to attend a seminar put on by John McRae and his veteran therapy dog Coach. That's when I knew exactly what I'd do when I got my boy. Therapy work seemed to be such a natural for these big dogs who seemed to love everyone they met. So, I had my activity, now all I needed was my dog.
Three months later, that became a reality when I got Jake (Jakob von der Lowenhöhle), simply the finest dog I have ever known. Little did I know that Jake would, in many ways, set new standards for therapy work by a Leonberger...?
By August, Jake had passed his Delta Society training finishing with the top score in a class with a dozen other dogs (and 1 parrot). It was then I discovered being a therapy dog and getting a therapy gig were two entirely different things. Because Jake was still actively showing, he was intact. Many of the major pet therapy organizations are run by veterinarians or shelters, both of whom preach the advantages of spaying and neutering your pets. Because of that, many will not even consider bringing an unaltered dog into their program. Of course, I understand that, but I also know that these organizations are turning their backs on a group of some of the best potential therapy dogs there are...show dogs.
... he's a Leonberger, for my money, the finest therapy dog in the world."
I soon realized I was going to be pretty much on my own finding something for Jake and me to do. I began sending emails and making phone calls trying to find someone who didn't care if Jake were altered or not.
Finally, after contacting various organizations for about 6 weeks, I got a call from Susan Gallegos, who runs the Child Life Program at Shriner's Children's Hospital in Portland, Oregon. Susan said she didn't care if Jake was altered or not, just that he was a good dog who was well behaved and loved kids. I knew we had a good match as soon as she said that.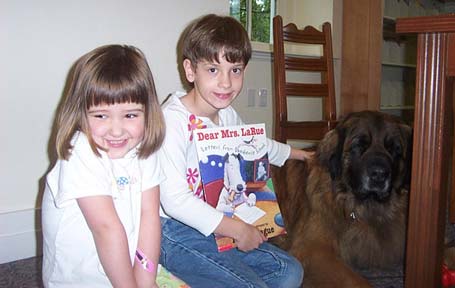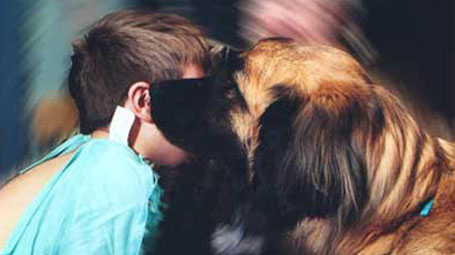 Unbeknownst to us, our first visit to the Hospital was actually a test. Jake and I were accompanied on our rounds by several members of the Child Life staff. I learned later the reason most therapy teams are not invited back has almost nothing to do with the dog. The reason teams are not asked back is because the handler fails to act appropriately in those surroundings. You have to understand you're going to see a lot of different kids in a lot of different situations when you are in post-op surgery area where Jake and I do our work. Our job is pretty simple, make the kids (and their parents) feel better regardless of the circumstances in which they find themselves. Fortunately, when you have a dog like Jake, that task is mot terribly difficult. It's been a wonderful marriage so far. Jake is by far the most popular dog the hospital has ever had.
We've now been visiting kids at Shriner's for 3 years and recently completed a milestone when we made our 100th visit to the hospital.
While Jake was doing his work at Shriner's, the opportunity arose to get involved in another program I had been aware of for a while. It's called R.E.A.D or Reading Education Assistance Dogs. The local library in Camas, Washington (near where I live), had opened a brand new building and were looking to start some new programs to help christen the new building. Pat Dowell, a friend who owns Newfies, contacted her friend Terry Johnson (who owns Belle) and Terry told Pat about Jake and me. A few phone calls later, we were a member of the Camas Library R.E.A.D. program. We are moving into our 2nd year as part of this group helping kids in local schools learn how to read in a non-pressurized environment where the dog doesn't care whether you make a mistake or not. Many of the kids (see picture) are actually pretty good readers who like to come in just because they love to see my big guy.
This year will be Jake's last visiting Shriner's. He'll be 7 by then and I've noticed his attention span has lessened over the past year. Standing in the on deck circle is my little fellow Destry (Joshua von Alpensee) who already has his CGC and will be getting his Delta Pet Partner certification this summer. Destry will take Jake's place. I have had the opportunity to take Destry up to Shriner's several times when Jake has been unable to attend his scheduled visit. He has shown me incredible ability to do therapy work. Destry has a very big engine and is much different than Jake. But, when he's at Shriner's, he's absolutely a different dog. No matter how small the child is that Destry sees, he seems to understand that he needs to be below them. The very small kids, he lays down, the bigger kids, he sits for and the older kids he stands up.
How does he know how to do that? Why? Well, folks, he's a Leonberger, for my money, the finest therapy dog in the world.
*By Don James