About the Leonberger
---
Agility with your Leonberger
Agility is a sport in which a dog runs through a timed obstacle course under the guidance of the handler. Agility training strengthens the bond between dog and handler, and provides fun and exercise for both."
History of Agility
The idea of agility was born in 1977 when Crufts Dog Show needed something to fill up spare time in the main arena between the end of the obedience championships and the start of the group breed judging. Some people put their heads together and they came out with a test based on vast practical dog training knowledge and experience in working trials. Main factors that had to be kept in mind were: that it should be fun, without being dangerous and it should have to amuse spectators. They built the equipment. Another club was contacted to form a second team of four dogs and they all helped each other with training ideas and modifications to equipment.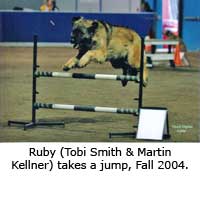 Today, Agility enjoys enormous popularity in Britain, with well-attended competitions every weekend during the show season. The larger events draw thousands of competitors and attract huge, appreciative audiences—many competitions are now even televised. This enthusiasm for Agility has spread to virtually all of Europe, as well as Australia and New Zealand, followed by the USA in 1986, making Agility a truly international dog sport.
Puppies and Agility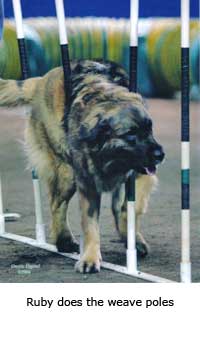 Agility puppy training can start with dogs as young as 4 to 5 months! Granted, it doesn't really LOOK like agility at first. There's a lot of playing and silliness—but really, at any level of training, isn't that what agility should be for our dogs? FUN! Puppy agility NEVER physically stresses little puppy bones; so our young dogs don't do any real jumping until at least 18 months old. They step over small cavaletties that are only a couple of inches off the ground. We do a lot of target work to teach them to work away at a young age. Target work also helps our puppies to have excellent contact control! Puppies LOVE running through the tunnels. And we do basic commands that help them to go DOWN on the table QUICKLY! The puppies even learn correct weave pole entry, using a touch stick!
Puppies are so eager to learn and so happy to please. They really pick things up quickly. But the key to a successful training session is to keep the lessons SHORT and POSITIVE (kind of like their instructor!). We also employ lots of rewards, from special food treats to toys and games (and lots of hugs). Once a puppy figures out an obstacle, they've GOT IT! And agility training works WONDERS for improving confidence in a shy puppy. The other huge benefit is the socialization these puppies are getting with each other.
---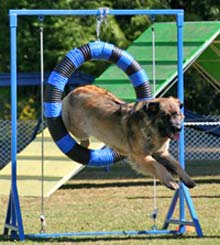 Ruby through the tire jump!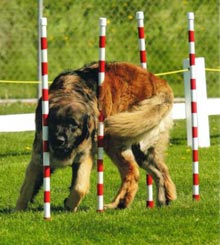 Ruby at the weave poles.
AAC Regional Championships, 2005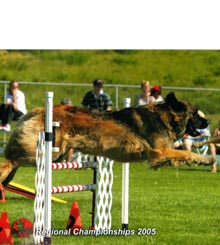 Ruby clears the jump.
AAC Regional Championships, 2005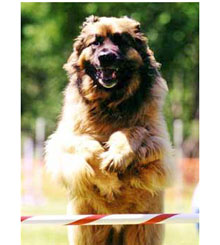 CH Dan-D-Lion von der Löwenhöhle (Mark & Dianne Bancroft) takes a very big jump.
What Happens at a Trial?
When the course has been set up, the handlers gather together for a "judge's briefing" where the judge summarizes how the class is judged.
After the judges briefing, handlers only (no dogs) are allowed to walk the course. Handlers walk the course to familiarize themselves with the layout and flow of the obstacles. Most handlers will walk or run the course several times looking for potential challenges for themselves and their dogs. Based on their previous experiences, handlers will plan their own strategy to handle the challenges set forth by the judge.
Agility dogs run their courses naked (no collar and no lead) to prevent hooking a collar or catching a leash on a piece of equipment and having it come crashing down. The Judge usually tells the handler when they may begin the course. The Timer starts the stopwatch as soon as any part of the dog crosses the start line and stops when any part of the dog crosses the finish line. Sitting next to the timekeeper is a Scribe who records any faults the dog may have which have been signaled by the judge with hand signals or by voice. Once a run is completed the timekeeper shows the scribe the stopwatch and watches as the scribe records the correct digital read on the scribe sheet. The scribe sheet is then taken by a runner to the score tent for final calculation. Final scores are then posted for competitors to view their placement and if their round earned them a qualifying leg towards an agility title.
Each judge designs unique courses for each event run. The same course is never used twice. The judge is responsible for monitoring the final setup of the course ensuring it matches their layout and finally measures the course for an accurate yardage to determine the standard course time (SCT). Judges are dedicated agility enthusiasts who spend upwards of 8 hours at a given trial carefully scrutinizing each competitive team as they maneuver their way through the maze of obstacles.
Common course faults include: missing a contact zone, incorrect weave entry, non-completion of an obstacle, off course (taking an obstacle out of sequence), knocking a bar off, leaving the table before the judges count of 5, and exceeding the time allowed for completing the course.