Events
---
Upcoming Show & Event Info
The LCNW Summer Regional Specialty Show was a great success thanks to all!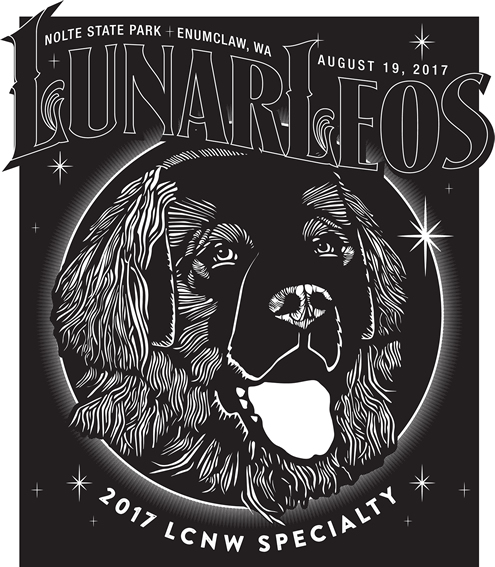 Hi LCNW members and friends,
Wow! Great Weather, Great Dogs, Great people ... what a great weekend for the LCA Draft Test, Supported Entry at Mt Rainier Working Dog Show, and Lunar Leos - the 2017 LCNW Summer Regional Specialty!
Friday was a delightful day for the LCA All Breed Draft test at MacFarland Park in Enumclaw. Judges Ruth Nielsen and Jennifer Brightbill (both have Bernese Mountain Dogs) adjudicated several teams of Leonbergers and one St Bernard. It was fun to watch and also to see members of the club show who participated as volunteers and who observed as spectators. There are photos on Facebook - if you pay careful attention you will see many Leo heads sticking out of nearby vehicles.
Saturday was a morning start at Nolte State Park with 45 participating entries for the traditional LCA club-style show. Following the format success at the 2016 specialty, the LCNW 2017 show again used the two ring format. We were fortunate to have Ms. Rosemary W. Leist and Ms. Christie Martinez to judge and provide critiques. The sun shined brightly but wasn't as hot as many summer specialties have been. Best of Breed went to Lori Taft and Erin Fischer's CH High Hopes Ambush At Desperado (Olive) RA BN VL. Best of Opposite belongs to Don James' CH Quadrophinia von Alpensee (Mickey). The winners all received a magnificent silver Leonberger pin, handcrafted by our own Debbie Rhodes! Photographs of all the friends and fun - from the enthusiastic Peewees to angelic napping (piranha) puppies - are on the LCNW Facebook page and Christina Merten's personal Facebook page.
The afternoon included the annual club meeting and board election, terrific mega raffle, and - wow - an outstanding potluck picnic! The 2017-2018 board are Erin Fischer (President), Junko Ferguson (Treasurer), Lise Brandhagen (Secretary), Christina Vitazko-Merten (Member-at-Large), and Debbie Rhodes (Member-at-Large). There is nothing like enjoying the company of fellow Leo people. While we did miss several friends from the Northwest and beyond due to challenges, including eclipse traffic, there were many new members we count among our friends. Furthermore, what a special thing we have as a club when members who aren't showing or who didn't bring a dog come together as part of our community and celebrate our Leos. Great Dogs, Great People!
Congratulations, again, to all of the winners and to all of the participants! Thank you to our esteemed judges! Thank you, Debbie Rhodes, for your time and effort creating outstanding, well-designed, and well-crafted Leonberger pins for awards. A hearty thanks to to each and every volunteer, including the board members and show committee! You helped to organize, administer, set-up, facilitate, and tear down... You brought tables, tents, and trailered-up a Gas Grill(!) ... Your gift of time and effort is something for which we are all grateful. To all who donated financially, your contributions helped provide ribbons, awards, catalogs, burgers & hotdogs, and more (More? Like what, you ask? Important boring stuff like park fees, envelopes ...). We even had volunteers who were participating for their first time! Please consider taking time to volunteer and participate in upcoming events (see the events posted in the LCNW newsletter; email a board member or Lori Taft, show chair).
Did you know you can enjoy the company of Leo Friends throughout the year - without attending a show? There are Leo walks the first Saturday of the each month at Marymoor Park in Redmond (contact Andie Holsten - thank you for your long standing commitment Andie & Brian). For local shows and social events outside of LCNW, Don James moderates a Google group, sometimes referred to as Group 3. All are welcome.
Watch for our Newsletters with important announcements and event information throughout the year. We will be sure to remind you of upcoming supported entries in conformation and for working dogs, the early spring Breed Education booth, and any other news you can use.

Sincerely,
Lise Brandhagen
Secretary, LCNW Board
BUY YOUR LIMITED EDITION
2017 Summer Lunar Leos T-Shirts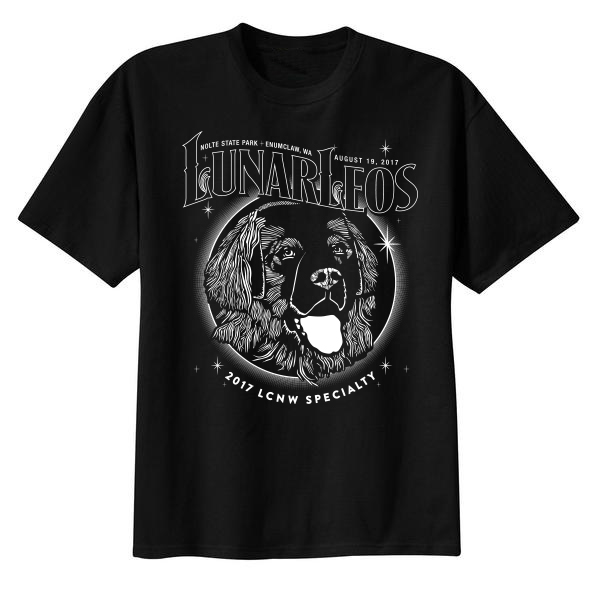 The LCNW has partnered with Custom Ink Booster to provide Lunar Leos t-shirts, designed by LCNW member, Maria Nelson! There is a fit and size for everyone. Be sure you review the sizing line-up with each style for your preferred fit. Combined, we must reach a minimum of 13 shirts sold (or more) in order for the shirts to print. In the unlikely event that we don't reach the minimum, no shirts will print and your $ will be refunded. Shirts will be available to purchase until October 13th. Your shirts will be printed and delivered directly to you approximately 2 weeks after the closing date
And, yes, they will ship to Canada!
To find our shirt, click over to:
https://www.customink.com/fundraising/lcnw-2017-lunar-leos
This is a limited edition run - shirts are only available until October 13th.